"Life is an unanswered question, but let's still believe in the dignity and importance of the question."  – Tennessee Williams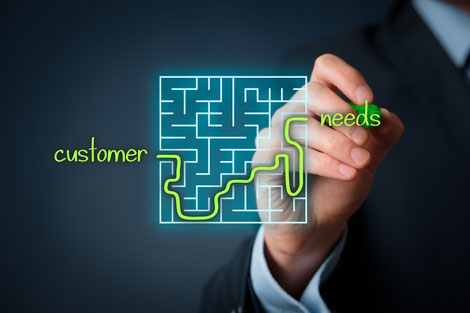 Digital Transformation.  A top priority for many businesses this year, with many firms having at least one
initiative to further the path toward the digital economy. One of the challenges that firms are reporting as their biggest challenge is understanding customer expectations. Project failure takes place when the project team delivers a product without having a clear understanding of what the customer needs. Poor requirements management, is the second most common reason for strategic project failures. Let's think about that and these other statistics from a study by PMI.
 ·       47%  of unmet project goals were due to poor requirements management.
 ·       Only 33% of organizations' leaders value requirements management as a critical competency.
 ·       Only 49% of organizations have the resources in place to do requirements management properly.
     Businesses know that they must understand customers' needs to create innovative solutions or products that have value. Management knows that if we do not get the requirements right, we will not get our projects right and we will not deliver good products. Managing requirements is a process. Business requirements need to be defined in business process terms — how the organization wants to do business, engage with customers and offer experiences that make customers feel positive about the future. Setting the requirements necessitates your customers' participation and collaboration.
How do we manage requirements so that we are learning what situations our customers face? By asking questions. Questions are the best way to gain deeper insights that can lead to develop solutions and demonstrate to customers a level of caring. The process of problem solving or innovating through listening may elevate the business in your customers' minds.
3 WAYS TO ASK QUESTIONS TO CAPTURE YOUR CUSTOMER NEEDS
1.    Engage in conversation, Interact and listen. Customers do not naturally share their needs or the problems they are having when using a product. Businesses that repeatedly engage and listen to customers, then act on the information can perhaps earn a special place in their hearts. Open-ended questions are great for starting a broad conversation.
 a.    Tell me how do you use this product?
 b.    What are some of the most difficult tasks you are trying to accomplish?
 c.     What other possibilities should we consider?
2.    Ask the right questions, probing for specifics. As you listen carefully to their responses, you can formulate further questions. The best approach is keep asking questions to deepen your understanding of the issues. The goal is to get passed the generalities and drill down to a level of detail to produce the desired outcome. You can start open-ended and general, but to produce a desired outcome, you must get to specifics. 
 a.    What does [efficient, good quality, consistent] mean?
 b.    Why do you prefer that one?
 c.     Who do you send the report to?
3.    Find the emotional connections of your customer. As an innovator, it is important to appeal to your customer's emotional triggers when developing solutions by understanding the situations your customer is facing. Customers are often good about sharing stories, and these stories can help you investigate further to understand their needs.
 a.    When did this happen?
 b.    How were you limited in accomplishing the task?
 c.     What do you mean when you say 'a pain'?
Questions: Do you practice asking more questions in your everyday conversations?  How will you engage your customers to be creative with you? You can leave a comment below
Author: M Concepción Prado
Sources: (BA Times, PMI: Pulse of the Profession, Book:  Competing Against Luck)