"Sometimes you just have to bite your upper lip and put sunglasses on."  – Bob Dylan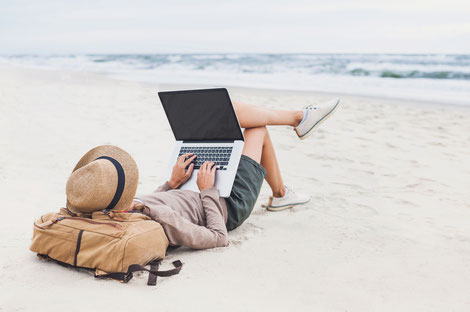 Make this summer your best one yet! As the season begins, we look forward to the warmest days of the year, swimming and vacations– activities that herald the best of the season. At the workplace, employers are making plans to accommodate for the summertime activities that, they say, will cause a productivity drop of about 20% in the workplace. This is a harsh reality for businesses whose peak season is in the summertime or have a project or two that requires to meet a deadline. Here are some not-so-surprising statistics about summer productivity:
·       Worker presence decreases by 19%
·       Projects take 13% more time to complete
·       Workers are 45% more distracted
·       63% admit to leaving the office early
While the summer might not be the best time to get your work accomplished, the summer season is an incredible opportunity for turning-up the notch on creative thinking. Summertime makes it easier than ever to continue the experience of thinking and problem solving beyond, sometimes far beyond, meetings and office walls. How? The imagination is inspired when we are outside of our normal routine. You can find inspiration in the activities, sounds and distractions of the summer. You stimulate your senses when you are outside of the normal, giving you a new perspective to solve problems, find solutions or design novel ideas.
5 WAYS YOU CAN STIMULATE YOUR SENSES TO BE CREATIVE
1.    Notice something new today. Give yourself a day when you look for, at least one thing that is different about your normal routine. During your route to work– Can you hear unfamiliar music? See an interesting store? Do you see billboard or event announcements? The key is to disrupt the everyday routine and experience your world in a brand new way. As your perspective widens to fresh stimulus, so will your creativity.
2.    Take an imagination trip. Create an imagination challenge within your workplace. You can do this simply by deciding on a problem you want to solve, individuals take a novel idea, pass it on and take turns to expand on it, until you see it all the way through to completion. This fun exercise will sharpen invaluable skills, including creative and critical thinking, collaboration, project management, perseverance, risk taking, and conflict management.
3.    Follow the art, music, or colors. On a day that you take an extended lunch, surround yourself with vibrant colors (like a flower garden), follow the music, or listen to a live band. Sometimes, the work environment is too rigid and does not nurture creativity. You need to do something different every now and then to stimulate your mind. Write your ideas on a notepad, doodle and give yourself room to play.
4.    Share your thoughts and ideas. Studies show that nearly two-thirds of the workers who reported a decrease in productivity socialized with co-workers more during the summer. Sharing a problem with someone else can help you come to a solution. At the very least, it makes you think through your issue and organize your thoughts. Learning how your friends are resolving similar kinds of problems can be reassuring enough to create a positive mood.
5.    Stay Positive. On the days that you find yourself daydreaming about the places you would rather be, adopt a positive attitude and do not allow the stresses to prevail. Creativity is aided by a positive mood. Find the nice people with a good sense of humor and let the employee within you have a moment to play.
Questions: What are some activities or sounds that you see or hear during the summer that inspire you to new ideas? How will you engage your co-workers to be creative with you? You can leave a comment below
Author: M Concepción Prado
Sources: (Forbes, Grasshopper ,Book: The Little Spark by Carrie Bloomston)