"Culture is not static, it can be changed." - Laura Soriano Yawanawá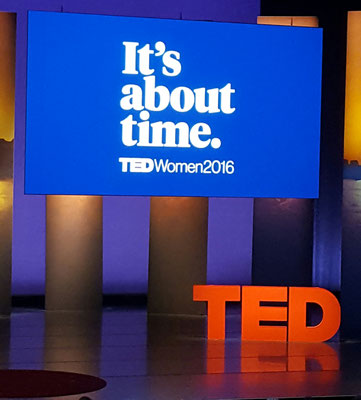 Leaders don't value change for its own sake, they know that growth is only possible if employees and organization embrace new ways of doing business and embrace new ideas or think about a subject with a new perspective. Successful leaders are dedicated to continuous learning. It means that they attend annual conventions and go to every session available that has new insights that can help them to be more effective in getting the results they want to achieve. A culture of learning across all levels of an organization can be established by incorporating learning activities into your action plans. Growth requires an environment that encourages learning the most current information and exchange ideas. Let's imagine…take a single example, one conference and spread ideas across your organization.
At the TedWomen conference this year, participants listened to 18 presentations; a combination of talks and performances that introduced views and stories about a single subject- Time. The common idea is that change can happen by thinking about time differently – change the mindset. TED is a global community devoted to spreading ideas through powerful and stimulating talks. A Ted conference will cover topics that range from science to business to global issues. The speakers shared their ideas, made a case for the need for change and made a call to action.
One specific story is about the Yawanawá tribe. The presenter describes how the tribe was near to becoming a lost culture of the Amazon region in Latin America. Other tribes had already succumbed to that fate. To prevent the same fate, the community developed a roadmap, which required change to legal policy, education and cultural practices. The Yawanawá tribe secured land rights, created schools, gave female rights and voice in decision making and worked with elders to strengthen cultural practices. Together, they managed a rebirth of their community.
Oftentimes, back at the office we don't share ideas learned in conferences or educational sessions, but we need to do so more often. In our quest to meet deadlines and perform our jobs we tend to keep that information to ourselves. One way to keep the process of growth ongoing, is to plan for and create opportunities for sharing. In this example, discussing a Ted talk or watching a talk together. In doing so, we maintain active the point about what is really important; to work together, as we look for opportunities to grow and employees excited about the future. Growth means change and change is good.
HOW TO KEEP YOUR TEAM OPEN ABOUT CHANGE & GROWTH
·       Positive Thinking. When the change is rooted in positive thinking as opposed to obligation, fear, or loss
·       Roadmap to change.  When the goals are specific and you develop a manageable plan to accomplish your goals
·       Empowerment. When the change is self-motivated by allowing teams to decide, make rules and take charge
·       Learning check points. When you incorporate education and new ideas in your action plan, you inculcate self-motivation and excitement
·       Surrounding forces. When you surround yourself and your teams with others who are positive forces for the change you're trying to make, you draw energy and wisdom.
Questions: What are the new ideas your firm is exploring to enable growth in the coming year? What are ways you create positive energy or draw energy from your team? You can leave a comment below
Author: M Concepción Prado
Sources: (Ted, Inc.,Yawanawa )