"Sometimes the questions are complicated and the answers are simple." ~Dr. Seuss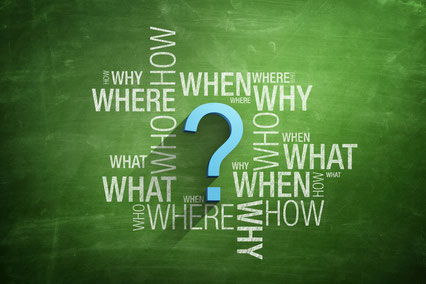 In elementary school is where children are taught to analyze problems by asking themselves simple questions- 5 Ws and 1 H. Their method- What? When? Who? Why? Where? and How? Similarly, the scientific method provides a structure to solve problems- ask a question, construct a hypothesis and test with experiments to collect data and analyze results. We learn from an early age to follow process and to think critically. In business, every project or initiative starts from a business problem that needs to be solved. We use logical steps and proven methods to solve these problems. Executives will define a problem, work with their staff to find a solution and begin to make changes. It sounds easy enough, yes?
Yet, a recent statistic about failed projects reports 78% of executives say 'the project requirements are usually or always 'out of sync' with the business needs'. A solution is missing important features, features go under-utilized or steps are added for the worker to complete their tasks. It's normal, and probably expected, that not every solution will satisfy all workers 100% of the time. But, it's also fair to ask, did we get off track and divert our attention off the problem we were trying to solve?
Oftentimes, we can see where we need to go, but we don't know how to get there. In our quest to find solutions we tend to complicate things needlessly. We try to ask really difficult questions in order to understand the details. We dive deeper into the problem and learn about exceptions or new information altogether. In the process of asking questions, we realize how complicated the issue is. In doing so, we miss the point about what is really important; the original problem; those simple answers, the benefits of simplicity. Complexity will distract and take attention away from a situation.
HOW TO KEEP YOUR PROBLEM AND SOLUTION AT THE FOREFRONT
One way to keep the problem at the forefront is to create a problem statement and keep it visible during all stages of a project. A good problem statement is concise and provides enough information so that an audience (team members, management, executives) can really understand what you are trying to accomplish. Make sure your problem statement can answer the following questions:
1.    What can you see to make you think there's a problem?
2.    Where is it happening?
3.    When is it happening?
4.    Who is this problem happening to?
5.    Why is it happening?
6.    How is it happening?
The problem statement can serve as a checkpoint to keep your team focused and productive. A problem statement is an efficient way to limit the distractions and keep the problem focused on your goal. Review the problem statement on a regular basis, especially:
v  When you get caught up in the details of questions. Remind yourself to keep it simple.
v  When details of a problem result in a discovery of a new problem. Remind yourself to prioritize this new problem.
v  When you discover that several problems are related. Remind yourself to prioritize the problems.
Questions: What methods does your firm use to ensure your team is solving the same problem? What are some challenges you face when you want to prevent a project divergence? You can leave a comment below
Author: M Concepción Prado
Sources: (Wrike, Harvard Business Review, Entrepreneur)