"It is better to take many small steps in the right direction than to make a great leap forward only to stumble backward." ~Proverb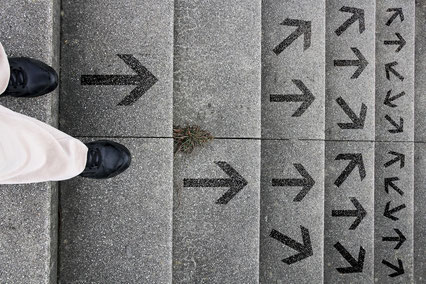 We often hear how difficult it is for firms to implement change when taking on initiatives meant to evolve their firms. We often see the statistics- 70% of projects fail. The topic of implementing change, in business, is being addressed differently by industries and corporations. There are success stories, just as there are stories of failures or should we say, lessons learned. In change management, a best practice is to create short-term wins so that firms can build on change. In project management, task plans are created so that large projects are broken down into smaller and usable deliverables. Problems occur, when these plans are not integrated closely enough, so that the timing of a change step, is executed with the completion of a related task. This results in employee frustration, unhappy stakeholders and extra time needed for a project. Is there a tool that can be used to align the scheduling of change steps with the scheduling of a project step? 
Yes! It's called an Execution Delivery Plan.
There are two important trends taking place today that have a potential to alleviate firms from failures. But, we must be watchful of these industries- that they work together, not in silos, to help businesses around the world improve their chances of implementing change successfully.
Trend 1. Change management as an industry will continue to mature. As firms seek to use strategy to gain more buy-in and create specific projects in respect to a business change, change managers and change management tools are increasingly utilized. On a given project, change managers create a plan to define how the human capital side of change will be implemented (readiness, communication, training, and metrics).
Trend 2. Project managers are having to learn more about change management. While change management is not the same as project management, there are many stages of the process where they overlap. On a given project, project managers create a plan to define the tasks to be complete to implement a change (systems, processes, training, and metrics). 
While the project management and change management industries continue to evolve, it's important to learn their different approaches and tools and come up with ways to integrate them. When integrated, managers can create a winning combination or package of tools to enable positive project results and enable coordinated change within a firm.
HOW TO CREATE A STEP BY STEP CHANGE PROCESS
One way to improve the results of a planned strategic change is to develop an Execution Delivery Plan. A good execution in the change management is highly critical to the delivery of a related project task. An execution delivery plan prompts teams to stay on track with their people- ensuring enough communication, the best methods for communication, for example workshops vs online training, ensures training happens at the right step. Most importantly, a step by step process ensures that people have a full understanding of the goal for the project and their respective role to fulfill the goal. Managers can create execution delivery plans that incorporate change management tools into their task plans.
Here are some of the pros and cons of walking the extra mile to create an execution delivery plan.
v  You can use project management technology to develop and maintain an execution delivery plan (e.g. MS Project, Jira, Smartsheet). Automated. Quick. Easy.
v   Eliminates silos and creates a collaborative environment for teams. The intent is to bring every participant into the project team early enough, with communication at the right time.
v  Executives have a reporting tool to gauge the progress of their desired business change. This tool allows teams to identify potential risks and address situations that may hinder the project.
v  Your firm will slowly become more resilient and adapt to change with less resistance, because change is continuous and easier to consume in smaller steps.
v  Managers may find that by delving into the tasks deeper, for a change or project task, you'll want more communication at certain steps or higher quality communications, which may increase your project investment.
Questions: What tools does your firm use to ensure the change management is executed well? What are some tips you can share for integrating project management with change management? You can leave a comment below
Author: M Concepcion Prado 
Sources: (Fast Company, Forbes, Prosci)