Zen - "An approach to an activity, skill, or subject that emphasizes simplicity and intuition rather than conventional thinking or fixation on goals"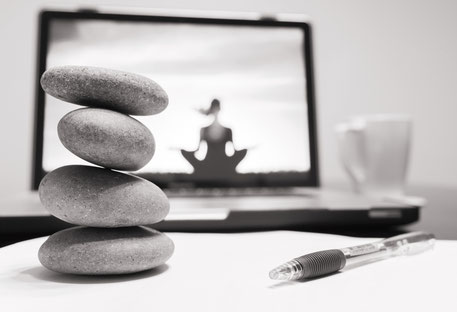 Imagine you are in a yoga class. The yoga instructor begins the class with an opening mantra. The opening mantra (typically begins with OM) is meant to teach students to collect and concentrate their awareness and instill a sense of togetherness. The class then performs a full practice sequence of yoga poses. The yoga practice will end with a closing mantra. The closing mantra is meant to teach you how to keep the energy of the practice and express gratitude to ourselves for the practice. In yoga, the teacher creates a state of mind of togetherness and a focus to a practice with the mantras. Wouldn't we want this same type of dedication and focus in our meetings?
We know from recent research on meetings that 37% of employee time is spent in meetings and over 70% brought other work to meetings. It's not surprising then, to learn that 47% of employees believe too many meetings are the biggest waste of time. Most managers know the basics of running effective meetings; prepare an agenda in advance, invite the right people, start and end on time, and follow up. There are many resources and training available to learn techniques for running effective meetings. While these conventional tools are useful and necessary for effective meetings, it's not the100% solution. The harder part is getting employees to engage and focus so the time is truly spent on working out a problem and coming up with solutions. Employees who are satisfied with their work contributions are happier and more productive. Here are some more interesting statistics about meetings:
v  The more meetings employees attended, the more exhausted they felt and the higher they perceived their workload to be.
v  39% of meeting participants admitted to dozing off during a meeting
v  An estimated 25-50% of meeting time is wasted
v  73% consider having a prepared agenda as "very important."
v  92% of meeting attendees value meetings as an opportunity to contribute to the organization
HOW TO CREATE A ZEN OF MEETINGS
The zen of meetings is a sense of team unity that brings the participants attention to focus on the meeting topic. Many times employees will be coming from another meeting, left an incomplete task at their desk or are just walking in the door. Their minds are most likely distracted or thinking of other tasks. Using the approach practiced in yoga, managers can create mindfulness with an opening mantra to excite the participants toward a shared frame of mind. Likewise, a closing mantra can help employees collect their thoughts of the meeting and clear their minds for the next activity of the day. Creating a Zen atmosphere in your meetings can prevent employees from feeling exhausted and stressed. You will be creating a situation that invites productivity and creativity.
The opening mantra. In less than 5 minutes you can set the stage for your meeting and bring everyone to a state of mind. Of course, the opening mantra must be the first activity in your meeting agenda. Some examples of opening mantras are:
v  A video that relates to the topic of the meeting. If you will be brainstorming about electronic document management, your video can relate to paper use. If you will be resolving an issue related to a complaint system, your video can relate to customer service. The intent is to bring every participant to a common frame of mind.
v  Ask participants to summarize the meeting topic in five words or less. If you get consistent answers you have framed the meeting agenda clearly, otherwise, you have one last opportunity to frame your meeting topic and a measure of quality for the next meeting. 
The closing mantra. In less than 5 minutes you can allow employees to quietly wrap up their meeting notes and clear their minds. The closing mantra must also be included in the agenda. The best examples of closing mantras are:
v  A moment of meditation. This does not mean end the meeting early! The last few minutes are truly intended to allow participants to wrap up; quietly and individually. It may feel trivial at first, but you will be surprised how many will eventually use the time to recharge.
v  Offer a cup of tea- hot or cold. In addition to hydrating, tea is known to boost your endurance and strength, prevents disease, and is awesome for your well-being. When the last few minutes of the meeting are used to emphasize the purpose of a project or the firm, the team building exercise will result in a positive feeling about the time spent in the meeting.
Questions: Does your firm use mindful techniques to build a team spirit? What are some ways you manage meetings to make them more effective? You can leave a comment below
Author: M Concepcion Prado 
Sources: (Forbes, Yoga Journal, Zen Workplace, Forbes,  Time)